http://www.geekylocker.com/how-to-activate-windows-7-with-win-7-loader/
Today, Geekylocker is presenting another good hack and tricks to activate your windows 7 copy trial into working version.There is two ways of activating your new os, which the first way is to use a programmed loader or product activator, and the second way, which is much harder, by tweaking and modifying your BIOS setting. There are couple of activators available on the Web today, and certainly they work with Windows 7 RTM 32 and 64 bits on almost any computer (homemade or branded) and even on Mac.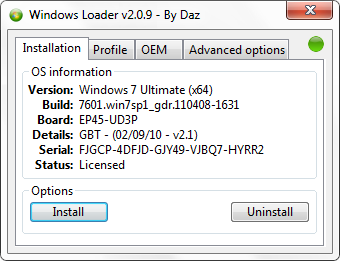 So, let us learn more and continue reading…
First, let put some notes on how act¡vators work on this new OS.
Act¡vators, also known as loaders, add a script on the boot partition (Linux Grub boot loader (GRLDR)) which will put OEM information (SLIC 2.1) into memory before Windows starts. This way Windows thinks that the SLIC 2.1 come from the BIOS (which is false). Act¡vators also install a certificate and an OEM SLP key to activate Windows.
The commonly used activator is win7 loader, which has been tested to work on many laptops such as Dell, Acer, Samsung etc. Here are the features of this loader:
Automatically finds your active boot partition
Works on all languages
Works alongside hidden partitions
Works on Windows 7, Vista and Server 2008 editions
Support for BIOS modded users
Argument support for silent installs
You can use this tool to activate your Windows 7/Vista ISO by editing setupcomplete.cmd
This program to this very day is still the only fully coded API driven application that handles it's own errors and depends on itself. It's the original program based loader and it's arguably the best loader based program to get you activated out right now with over 2 million downloads and counting and a strong fanbase behind it.
You can get win7 loader here:
Instructions:
1. Download the zip folder to your USB drive or external hd, so that you can run this program in the freshly installed OS.
2. Extract it. Run the application (.exe file).
3. Check the 'Advanced options' , and the options are available on the right side of the window. Choose your SLIC, certificate and serial that fits your PC or laptop.
4. Press install. Done!
If everything goes ok, your copy of windows 7 is now activated!
Walla – Geekylocker team–